..Holstein News: We still own Holsteins & are.
..involved in sourcing Top Quality Genetics for export
Saanen goats have now earned an equal place in the Grasshill 'picture' due to their immense productive & reproductive potential ...
<![if !vml]>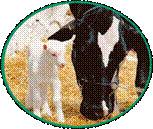 <![endif]>
Goats are NOT Small Cows though!!!
Other News: 'Xmas' Present!
... Narrator's 1st Milking Daughter ...

Purebred Saanen Semen Currently Available.
.from 4 of our Top Bucks:
Narrator, Trailblazer, Trendsetter
& Champ ! (more info on Champ below)


."Diana, what more could we ask of you?".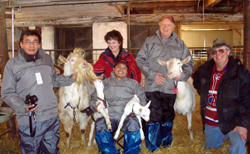 World Class 'Diana' ...3688 kg (305 day)
.Total Lactation (387 days): 4030 kg !!!..
Member of our 'Grasshill 10,000 kg Class'

Diana's Sire: 'Grasshill Honour's Champ' EX
(combining the genetics of Chablis &Jaklyn )

- - - 24 daughters kidding at avg age 24.4 mos averaged 1738 kg 3.31f 3.14p (305d)
16 daughters classified have averaged
VG overall & VG mammary

. Contact Grasshill for December 2014 Buck List
. Bucks available from our best families combining .production & type: Chablis, Tara, Dorothy, Naomi etc

... Also, Grandsons available from DIANA!! ...
..Saanen News: Export available: .
... Saanen Does, Bucks, Semen & Embryos ..
Strong Pedigrees behind our Does and Bucks: 'Shamrock' & 'Jaklyn' family members below.. (Tara's sisters: 2nd, 3rd & 4th from left)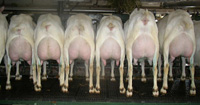 For Info on Frozen Semen from Tara's 2 Sons
& Champ, see brochure Page 1 Page 2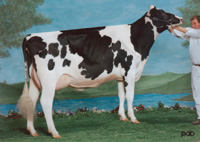 Above: Grasshill Derry Queen VG
1st 4yr old & Gr Champion 2007 Lindsay B&W Show
1st Sr. 2yr: 2006 Quebec Spring Show
Nom. 2005 All-Canadian Milking Yearling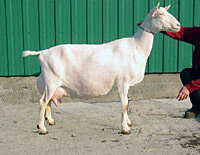 Above: Grasshill Shamrock's Lady EX 2471 kg
#1 Canada & USA producer 2004
Her dam: our EX foundation doe 'Shamrock'

Foundation Doe:
CH Hy-Crest Juno's Jaklyn (2E)
2003 All Canadian Sr. Saanen
Most of the Grasshill herd is related to this champion

Paternal Sister to Lady pictured above):
Chablis EX, EX mammary
-milked straight through with triplets, twins and two 305 day records averaging 2000+ kg